This world of vertiginous heights, crystal-clear tarns, rocky valleys, somber forests and incredible views does not welcome everyone with open arms. Only courageous adrenaline junkies with a numbed sense of self-preservation will feel at home here. When you feel your heart racing as you balance on the razor-sharp ridge of Ostrý Roháč, climb down Tri Kopy watching the dizzying heights below you or climb up the majestic Baníkov under the burning sun, praying that the 3L of water you naively packed will be enough, don´t say you weren´t warned. For motivation, imagine the well-deserved beer and blueberry liqueur (typical for this region) at the end of the road.
At the top only you, courage, concentration, chains and rocks form a team. The reward will be breathtaking views all day long… Roháče: The Ultimate Hiking Challenge in Slovakia. The top destination for more advanced hikers and a challenge for those less experienced. The reward… well, we´ve already mentioned that :). This week's tour guide will take you through the Roháče mountain range. Enjoy! 🙂
---
BEFORE
YOU GO
Appropriate hiking boots are a necessity – a bad slip can lead to a fatal fall
If you plan to take on the entire ridge of Roháče, take at least 4 liters of water – streams and potable water are a rarity here
Respect the weather conditions – check for avalanche warnings and avoid hiking in the rain (chains and rocky ridges will be slippery)
Hiking the ridge is not suitable for children, you would fear for them more than for yourselves
We don´t recommend these trails to anyone who does not feel comfortable in high places – chains are often on the edge of staggering heights
Camping and spending the night in the National Park is forbidden – such endeavors are at your own risk
Completing all 5 tours is only recommended to experienced hikers who are in good shape – children can join you on the easier tours
DAY ONE – 

BLUE DIAMONDS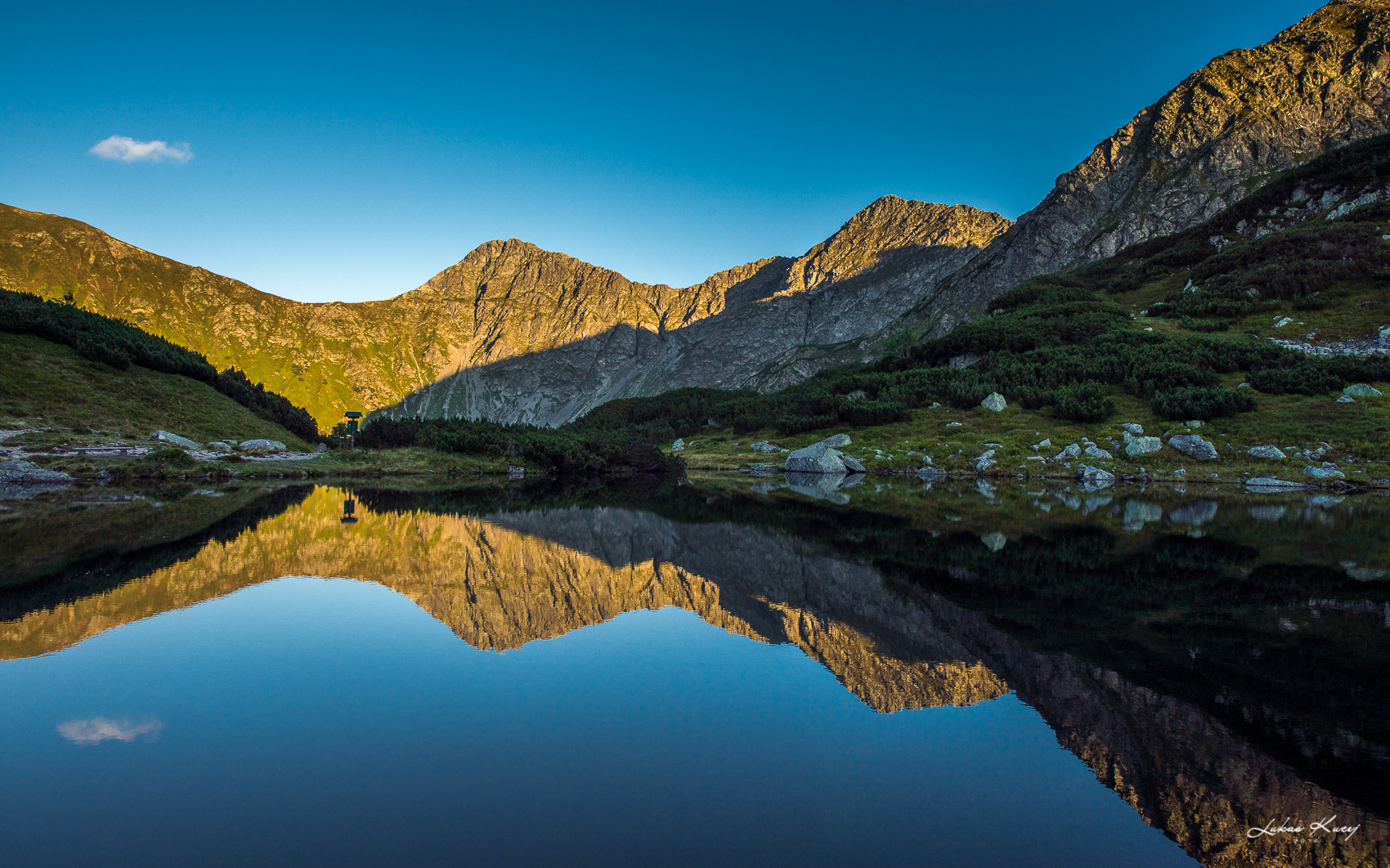 Well… the description above may have been graphic, perhaps to discourage the less experienced hikers from blindly overtaking this challenge and to prepare the more experienced for what is ahead. We will, however, begin with something easy… an entrée to the gorgeous, colorful world of Roháče: the tarns of Roháče, diamonds under the rocky precipices of surrounding peaks. This is not a difficult trail fit also for children. The tour takes approximately half-a-day and an early wake-up call is not required. Beginners can feel proud and satisfied for overcoming steep rocky hills and descends.  For more demanding hikers, this can be considered as a relaxing warm up before taking on the summits standing over the tarns.
---
Short info:­4h 50 min – 14,8km /­  750 m /­  750 m /­ map/ ­ medium
DAY TWO –

TOUGH BEGINNING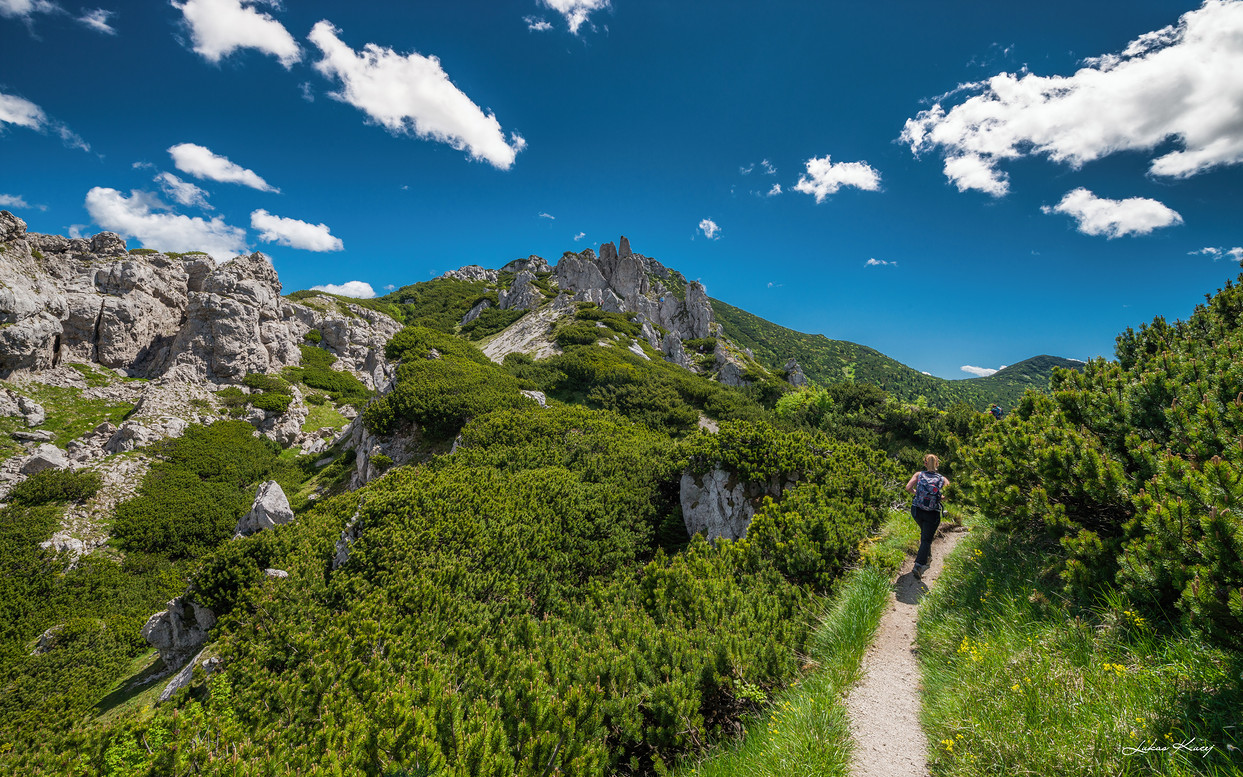 Welcome to the world of Tatras; here you will jump right into the deep end. Whoever has conquered Sivý Vrch will not soon forget it. The almost-1000 meter elevation gain speaks for itself. Start this tour early in the morning to avoid the hot afternoon sun, as there will be no tall trees to provide shade as you work your way towards the top. Chamois sightings are not rare; allegedly, this peak is the home to many. You will know you have reached the top when you find yourself surrounded by an enchanted rock city, stuck in time, with breathtaking views of the Roháče ridge and Western Tatras.
---
Short info:­ 7h 40 min – 15,1km /  1355 m /  1265 m / map/ ­  medium
DAY THREE –
GETTING HARDER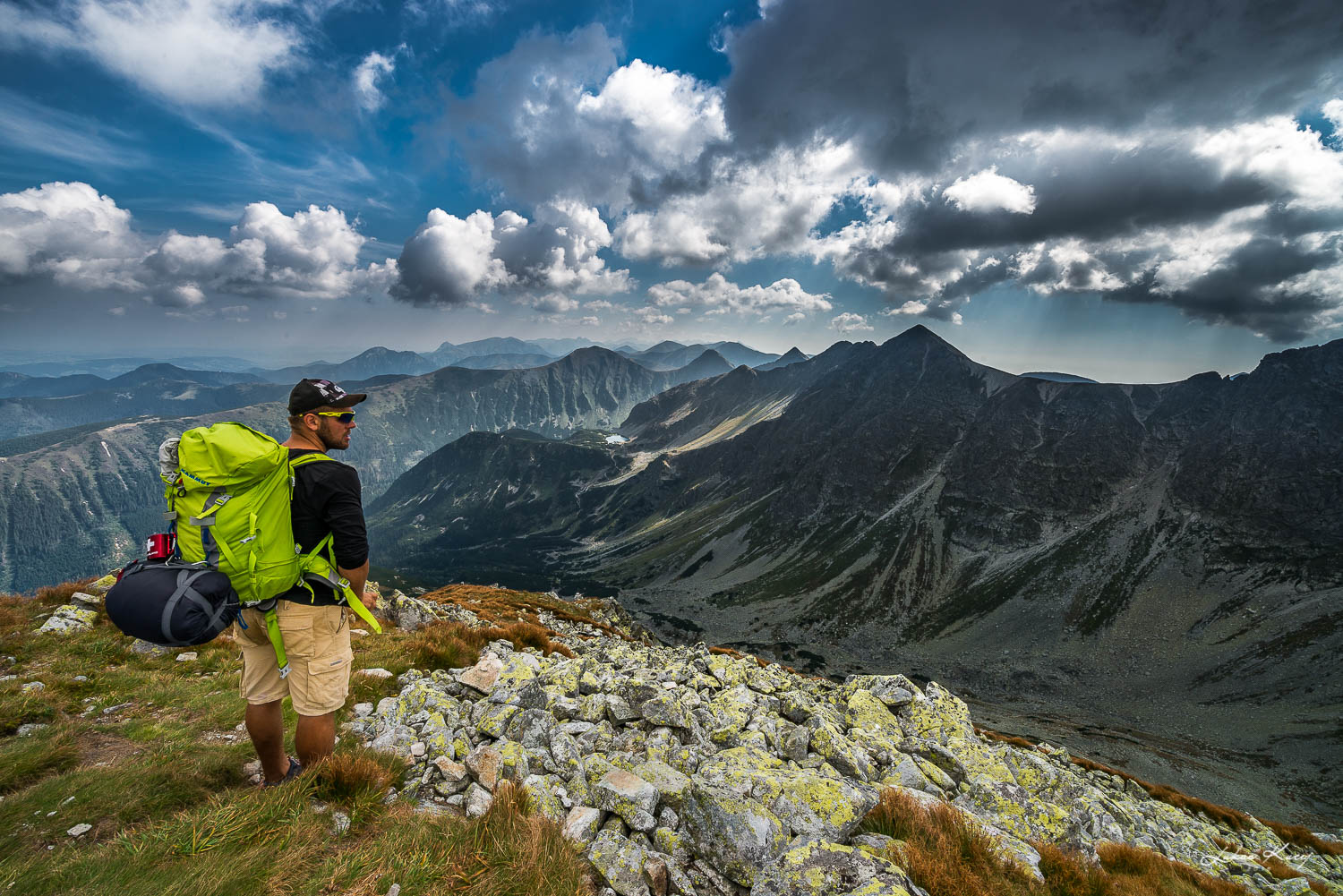 The previous day was tough; today will be even tougher. Once again, you will wake up early to ensure you will make it to the ridge of Brestová before noon. Only at the top you will see what the future holds: the main ridge of Roháče… you still have a chance to change your mind :). The views, again, incredible and if fatigue overcomes you, there is a chance to use the cableway at Spálená Dolina – your knees will thank you.
---
Short info:­ 9h 05 min – 18,2km /  1510 m /  1510 m / map/ ­  hard
---
DAY FOUR
–
CULTURAL RELAXATION
After two demanding tours, relaxation is well deserved; especially  because the worst is yet to come. When it comes to leisure, there is lots to choose from just outside the national park. For example, you can visit the Zuberec open-air museum and witness the difficult, but beautiful, life of mountain villagers, take part in a number of cultural events, relish the newly-opened Brestovská Cave right under the steep hillsides of Roháče or let your tired feet rest at the Oravice Aquapark.
---
Short info: ­ 043/539 51 49 /­  Zuberec museum / Brestovska cave
---
DAY FIVE –
THE
CHALLENGE BEGINS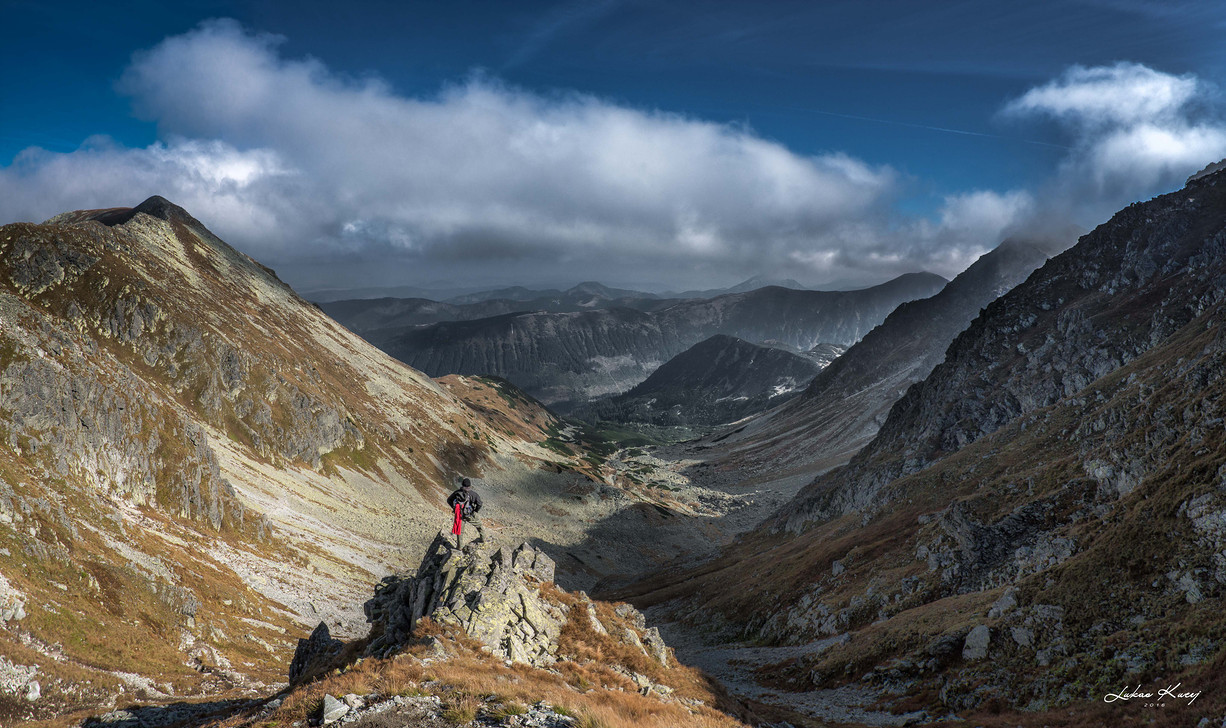 If the previous tours seemed difficult, they are nothing compared to what awaits. Only climbing Baníkov and balancing on rocks as you cross Tri Kopy will truly test your fearlessness, endurance and skill; and you will not be alone. A number of people every year attempt to overcome this ridge, many of whom tense up while crossing the chains so you may witness some slight drama :). To look on the bright side, while you wait you can relish the views of the valleys and distant Western Tatras, listening for the sharp whistle of the local marmot. After a tough day you can seat yourself in the Ťatliaková Cabin below and enjoy a well-deserved beer and blueberry liqueur. Today was difficult and tomorrow will take you to the edge of this mountain range… literally.
---
Short info:­ 8h 30 min – 18,6km /  1363 m /  1363 m / map/ ­  hard
---
DAY SIX –
PURE MADNESS
This time we added a video instead of photos. Enjoy Ostrý Roháč (Sharp Roháč in English), which starts at approximately the second minute of the video. The most difficult day has begun – for some it will take the whole day to complete. Ostrý Roháč is a challenge which causes dizziness and forces you to overcome your fears and yourself. Amazing scenery and panoramas but also deep concentration on your every step awaits. One mistake can be fatal. A slip or a trip can lead to a dangerous injury at alarming heights. But, once you conquer this mountain only a pleasant descent to the bordering Volovec (Wolowiec) and Rákoň peaks remains. Congratulations! You can cross Roháče off your list.
---
Short info:­ 9h 00 min – 20,4km /  1480 m /  1480 m / map/ ­  hard
---
FOR THE PURE JOY OF
NATURE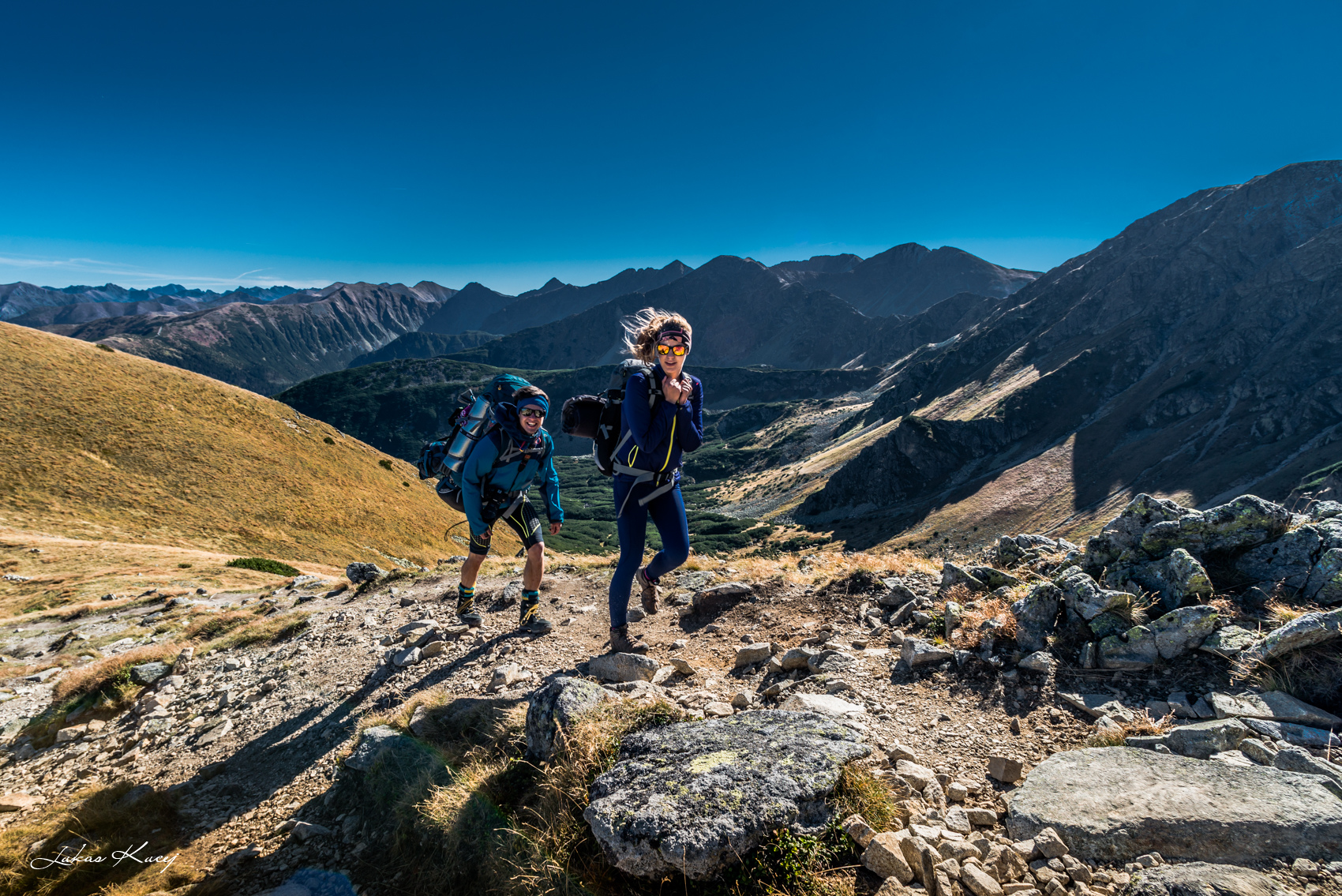 ABOUT
Roháče are part of, and the gate to, the magical Tatras National Park. Its elevation and high exposed terrain on the only marked alpine ridge in Europe place it among the top hiking challenges not only in Slovakia, but also beyond its borders. The hikes which we introduced here are comparable to those in the Alps or the Pyrenees.
WHERE AND HOW TO GET THERE?
Northwest Slovakia on the edge of the Tatras National Park (check the map).
­ ­ Transportation: train / bus
­ Accomodation: Zuberec, Zverovka, Habovka
check the availibility in these destinations via booking.com searchbox above 
­ Weather update: click here
­ Slovak Mountain Service   0903 624 066  
---
CLICK (FOR MAP LOCATIONS)
---
© Expedition Slovakia 2016 
Comments
comments